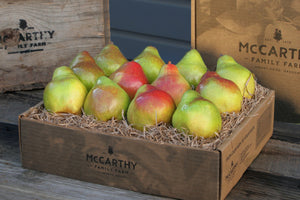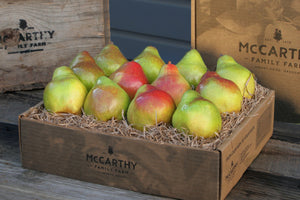 On Sale
Mt. Hood Comice Pears
This fresh fruit gift box contains 12 Comice pears — a succulent, buttery and exceptionally sweet pear variety. Beautifully shaped, the delicate Comice pear is often referred to as the "Christmas Pear." Comice bruise easily, making them a rare find at traditional retail grocery stores and a great gift for anyone who loves delicacies. We grow a variety of Comice pears in our Mt. Hood orchard, hand-selecting only the most attractive Comice pears for our gift boxes. We are especially careful when handling and packaging Comice pears. When they arrive at the door of your gift recipients, including friends, family, employees and clients, they'll be as beautiful and as delicious as they were when they left our farm.
Storage and Handling Tips: Comice pears will ripen best when stored at room temperature. They are usually ready to eat when they arrive at your door. To determine if they are ready to eat, apply gentle thumb pressure near the stem end. If the fruit gives slightly, it is ready to eat. Bruising on the surface does not necessarily indicate damage to the interior flesh.
Culinary Tips: Enjoy Comice pears sliced alone or with cheese, especially soft ripening cheeses such as Brie, Camembert or blue cheese.
Packaging: Each order comes with 12 premium Comice pears packaged in a custom McCarthy Family Farm box made with recycled materials. They nest in a specially designed foam pad covered with crinkle paper, both of which protect the pears during their trip from our farm to you or your gift recipients.
FREE shipping anywhere in the continental United States. Please allow 2-3 days for delivery.