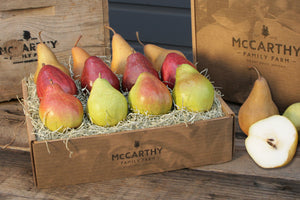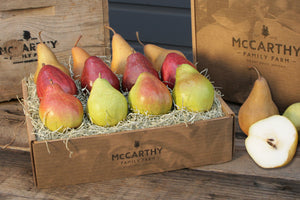 On Sale
Mt. Hood Pear Sampler
The distinct flavors, shapes, textures and colors make these gourmet pears a festive gift for anyone on your holiday gift list.
This fresh fruit gift box of 12 premium pears includes a mix of varieties — Comice, Golden Russet Bosc, and Columbia Red D'Anjou —grown on our farm in Mount Hood, Oregon. The rich, volcanic soils and cool summer nights make the Hood River Valley one of the most prolific pear-growing regions in the United States. Our Mt. Hood Pear Sampler gift box lets you taste of the very best that the Hood River Valley has to offer. Comice pears are succulent, buttery and exceptionally sweet while Golden Russet Bosc pears are crisp and mildly sweet. And, rounding out the Mt. Hood Pear Sampler, Columbia Red D'Anjou pears are juicy, with a fresh, sweet and slightly tangy flavor.
Storage and Handling Tips: Our premium Mt. Hood pears will ripen best when stored at room temperature. They are usually ready to eat when they arrive at your door. To determine if they are ready to eat, apply gentle thumb pressure near the stem end. If the fruit gives slightly, it is ready to eat. Bruising on the surface does not necessarily indicate damage to the interior flesh.
Culinary Tips: The versatile Mt. Hood pears in this fruit gift box are great for eating fresh or baking into a sweet or savory dish.
Packaging: Each Mt. Hood Pear Sampler fruit gift box comes with a mix of Comice, Golden Russet Bosc, and Columbia Red D'Anjou pears packaged in a custom McCarthy Family Farm box made with recycled materials. They nest in a specially designed foam pad covered with crinkle paper, both of which protect the pears during their trip from our farm to you or your gift recipients.
FREE shipping anywhere in the continental United States. Please allow 2-3 days for delivery.