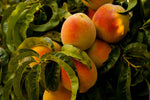 At McCarthy Family Farm in Mount Hood, Oregon, we've been busy pruning and prepping for what looks to be a bountiful harvest of apples, pears, cherries and peaches. This spring has been an especially busy one for us. For the first time, we're tending to a peach orchard using the same sustainable practices that define our log-time family farming mission.
Starting in July, we'll be harvesting three varieties of delicious peaches: Saturn (doughnut peaches), Blushing Glories (yellow flesh) and White Ladies (white flesh).
A Magical Formula 
The Hood River Valley is a premier fruit-growing region, boosted by Mount Hood's rich, volcanic soils, abundant winter snowfall, and warm, dry summers. Our apples, pears and peaches grown at 1,725 feet have remarkable resilience and flavor. 
Some might worry that the lingering snow this year in the Hood River Valley might have a detrimental effect on fruit harvests. Luckily, fruit trees need what is known as a "chilling period" to encourage the best fruit production during the season. This occurs when the trees enter a dormant state during temperatures between 32℉ - 45℉. So, if you find yourself grumbling because you are shoveling or plowing snow well into March, just remember how happy it is making your local fruit trees!
The Anatomy of a Peach 
Peach pits are a sign of the season. Perhaps you have noticed that sometimes a peach pit is easy to remove, and other times, it's just not. These "states" of peach pit actually have a name - "freestone" and "clingstone". The weather can make a difference in how clingy a pit can be, but mostly this is determined by how soon the fruit reaches its peak ripeness.
Earlier season peaches (May-August) tend to be "clingstone", which are typically preferred for canning, baking and preserves.
Peaches ripening later in the season (May-October) are mostly "freestone" and usually eaten fresh, if only because the pit is so easily separated from the flesh.
Peaches can be frozen, canned, jammed or baked into pies, but most people prefer to eat them fresh. 

Peach "fuzz" isn't just cute, it's functional. This soft outer layer of tiny hairs protects the fruit from light moisture by keeping the water away from a peach's sensitive skin. This helps to prevent premature rot spots, fungus or discoloration that can occur when water touching the fruit skin doesn't evaporate quickly. Some find it annoying, but we'd argue that it's a pretty neat, natural defense system.
Place Your Peach Orders Starting in June

Beginning in June, we'll start accepting pre-orders for our delicious peach fruit boxes. If you're interested in wholesale or corporate gifts, our friendly customer service team is available Monday through Friday from 8:00 a.m. to 5:00 p.m. to help answer any questions you might have and fulfill large orders. 
In addition, you can join our McCarthy Family Farm Club for special access throughout the season to freshly available products that are not available through our online store.